Our mission is to simplify your business payment processing needs and delight you with an amazing experience.
Please see the updated article here
To continue to invest heavily in enhancing your business payments, we are introducing a monthly platform fee to existing and new Veem clients.
What Changed?
We've made some adjustments to our pricing structure, to ensure there are affordable options available to everyone.
How much are the platform monthly fees?
There are two plans available. One free plan, one paid plan. Below are the details of each plan:
Products

Features

Basic Plan (Free)

Premium Plan ($14.99USD/$18.99 CAD)

Pay & Get paid

❌

✔️
✔️
✔️
✔️
✔️
✔️
✔️
✔️
✔️

Expedited Payments

✔️
✔️
✔️
✔️
✔️
✔️

Workflow management

✔️
✔️
✔️
✔️

Payment tracking

✔️
✔️

Reports

✔️
✔️

Automatic payment reminder

❌
✔️
❌
✔️
❌
✔️

Bookkeeping & integrations

Automatic Payment Reconciliation with Bookkeeping Partner

❌
✔️

Real-Time Sync with Bookkeeping Partners

❌
✔️

Other Partner Integrations

❌
✔️

Customer Service & Security

24X5 support

✔️
✔️

Security

✔️
✔️
When will this change take effect?
As of November 8th, clients will have the option to choose between both plans. Please reach out to client services at clientservices@veem.com to update or make changes to your plan.
How do I select my plan?
To learn how to select the plan you need, please click here.
Who is paying the platform the fees?
Businesses and sole proprietors located in the US and Canada who have signed up and sent 2 payments or invoices on Veem will be automatically charged 14.99 USD/ 18.99 CAD once two payments are completed.
To learn more about the clients who are included, please reach out to our support team at clientservices@veem.com.
How will I be charged the fees?
The fees will be billed to your primary funding method selected in the settings under the default billing account.
NOTE: This includes bank account, (debit and credit card - for US clients). The fee can not be billed from the funds available in the Veem wallet.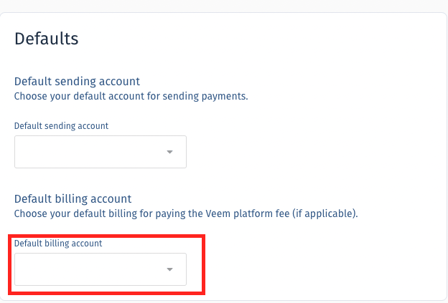 Can I see the charges on Veem?
Yes, the charges will be listed under the transaction tab along with the invoice sent.
If I have more than one Veem account set up under the same business, will the fee apply to each account?
No, the fee will only be charged to one account.
When will you charge me the first payment and the subsequent payments?
The date depends on different criteria including the joining date, payment completed date, and other factors.
The fees will be charged on the same day every month.
To learn more about the billing, please reach out to our support team at clientservices@veem.com.
What are the payments fees and timeline?
To learn more about the fees and timelines, please click here.
Have more questions?
Please feel free to reach out to your Account Manager, contact Customer Service here or visit our Help Center here to find answers to other questions.