Veem is now offering a Wallet credit promotion to a select group of our clients. Earn up to $125 in wallet credits for each Foreign Exchange payment made with no limit on the number of completed transactions.
Furthermore, clients located in the US and Canada using this promotion will get to use all the features under the premium plan for free! This will exempt them from paying the monthly fee (14.99 USD/18.99 CAD).
When will this promotion begin?
April 25th, 2023
How can I qualify for this promotion?
This promotion is available to accounts that signed up with Veem on or after April 25th, 2023 and are scheduled to begin paying monthly Premium plan fees 15 days after this date.
How can I start?
Click the "Yes, I'm In" button on the pop-up when you log in to enroll in this promotion.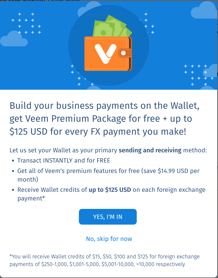 A reminder that only a select group of users are being offered this promotion. We hope to expand the promotion in the future to more users.
If you qualify for this promotion, you also have the option to click the "Yes, I'm in" button on the following banner shown in your Veem Wallet Dashboard.

How much credit can I get per payment?
| | |
| --- | --- |
| USD amount | USD credit reward |
| <$250 | No Credit |
| $250 to $1000 | $15 |
| $1001-5000 | $50 |
| $5001-10,000 | $100 |
| >$10,000 | $125 |
What if I just set Wallet as my Primary/Default Send Payment and Get Paid funding method?
Only those clients who are shown this promotion and click the "Yes I'm In" button will be able to benefit from the promotion.
Still, have questions? You can chat or call our Customer Success team here.