Please follow the below quick and easy steps to accept your veem invite. Set up your Veem account it will take 5 minutes or less.
Step 1: The recipient will receive an invitation email from Veem. Please select "Join Veem" and you will be redirected to the sign-up process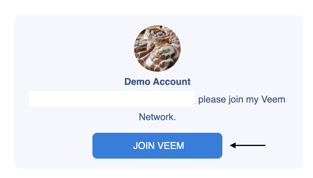 Step 2: On the next page, please enter the password that you would like to use for your Veem account, then click on "One time Setup"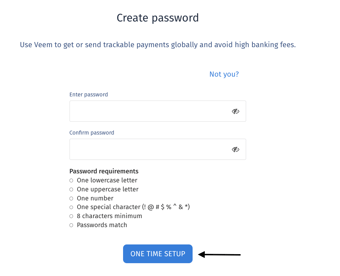 Step 3: Next, please select the account type, depending on whether you are a business or an individual. This will alter the information required to validate your account by our risk team.
For business account types, please enter the Business Information Including:

Business Name
Phone Number
Address
Business Type
Industry and Sub Industry
Primary Contact Name
Tax ID Number

For individual account types, please enter your personal Information Including:

Legal First Name
Legal Last Name
Date of Birth
Last 4 digits of your SSN

Note: This information may differ based on the country you're in.

Phone Number
Step 4: Select "Continue".
Step 5: Enter your banking details, either through our express sign-up or by manually entering your banking information.
Step 6: Complete additional information to help identify your business like website and business size (If any).
Step 7: Review the details and confirm that they're all accurate.
Still need help? You can chat or call our Customer Success team here.