How to update the Veem Platform Plan
You now have the option to choose a suitable plan for your business right from your account. This option is only available to users with Access to Setting permission!
You can only switch the plan twice, if you need further changes please reach out to clientservices@veem.com
Available plans are Basic Plan (Free) and Premium Plan ($14.99 USD, $18.99 CAD). To choose your plan, follow the steps here:
Step 1: Please Log in to your Veem account.
Step 2: Please go to the setting on the left side menu.
Step 3: In the account tab, locate the plan card.
Step 4: Choose your plan! A confirmation pop-up will ask you to confirm the plan you selected. Your selection will reflect in your account within 24 hours.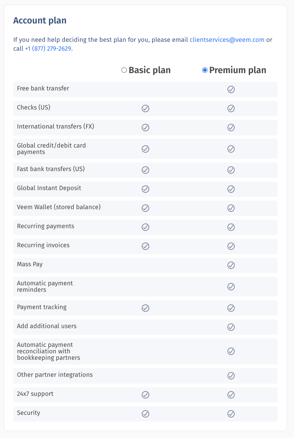 Still need help? You can chat or call our Customer Success team here.