Here are some of the common errors that are associated with login and password issues and the troubleshooting tips that can aid in resolving the issue:
Error 1: Incorrect email address:
Using a different email to log in can cause a login error. Thus, before logging in to Veem, please confirm the email address used to set up the account.
Often browser will save the most used emails and autofill them in login pages, make sure the browser is auto-filling the email address associated with your Veem account. You might also consider clearing the cache and cookies of your browser to prevent the incorrect email from auto-filling.
Error 2: Incorrect password:
If you have forgotten your Veem account password, or if your password does not work, you can request a reset password link by following the steps below:
On the sign-in page, enter your email address and click the option > Reset Password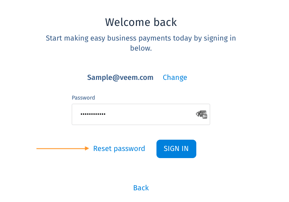 On the next page, enter your email address again and click > Email link.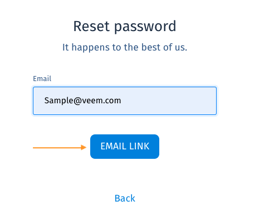 That's it! An email will be sent to you with a link for you to click and change your password. Please keep in mind that your password needs to be at least 8 characters, upper and lower case, numbers, and special characters. For more information on how to reset your password, click here.
Error 3: Logging in using VPN:
One of the most common signs that the VPN you are using is blocking you from signing in to your Veem account is being redirected back to the sign-in page after entering your email and password. To resolve this, please follow the troubleshooting steps outlined below:
Error 4: Using the wrong Sign-in option (most common):
There are currently 3 options that clients can use to sign in to Veem as seen in the screenshot shared below: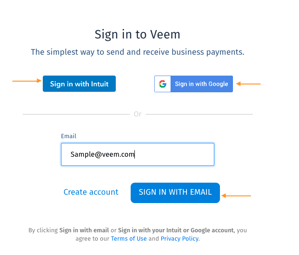 Clients using Gmail email addresses, and/or with QuickBooks integrated into their Veem accounts may have set up their login using either "sign in with Google (Google credentials)" or "Sign in with Intuit (QuickBooks credentials)". In case you get a login error (displayed on the screenshot below), please go back to the sign-in page and opt to use either of these options to sign in. Alternatively, you can also opt to reach out to our Customer Success team to confirm the exact login option set on your account.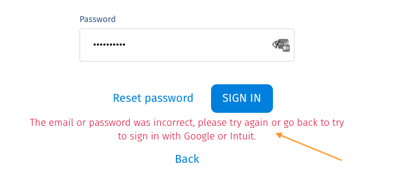 Error 5: Locked accounts:
In case the account gets locked due to numerous unsuccessful login attempts, you will be notified via email about this. To unlock your account, please contact our Customer Success team.
Error 6: 2FA log-in issues:
Some of the issues associated with the 2-step verification codes include the SMS messages being delayed or the code not being accepted by the website.
When this happens, please use the google chrome web browser > incognito mode > try signing back in using this tab > request for a new code.
If the problem still persists please contact our Customer Success team.
To learn more about the 2 step verification options we currently offer, please click here.
Error 7: Blank Screen Issue:
Due to Veem's advanced security system, in some cases, this may cause compatibility issues with some types of browsers, resulting in a blank/white screen after logging in. When this happens, please clear Cache and cookies and sign in using the google chrome web browser > incognito mode.
Need more help? You can chat or call our Customer Success team here.