How to Remove a Contact
To remove a contact from your Veem account, please follow the steps below :
Step 1: To the left-hand side of your dashboard, go to the My Contacts tab.




Step 2: On this page, locate the contact you want to remove. Hover over the contact to reveal the blue arrow to the right.



Step 3: Hover over the blue arrow click the 3 dots and click "Remove".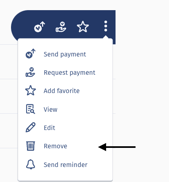 Step 3: A pop-up message will appear for you to confirm this step. To finalize the removal, click "OK".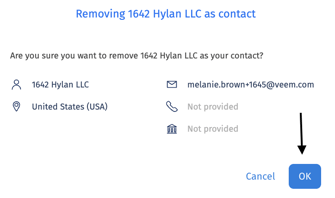 That's all! The contact will be deleted from the list of your contacts.
Need more help? You can chat or call our Customer Success team here.