By integrating your Xero account with your Veem account, you are allowing your clients, to pay those invoices directly through Veem.
For clients receiving the invoice, they will receive an email with the subject line "Invoice [Invoice ID Number] from Veem Inc for [email of invoicer]". To pay for the invoice, simply follow the steps below:
Option 01: For New Veem Users that would like to use the Guest Pay Feature (without creating a Veem account)
Step 1: Click the "View Invoice Details" button in the email. This will open the invoice and view the invoice details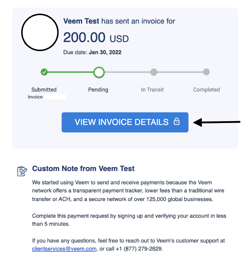 Step 2: This option will redirect you to view the additional details linked with the invoice. To continue the Guest Pay process, please click the button labeled "pay with bank transfer".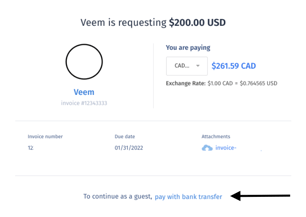 Step 3: Using the banking details shown on the screen, please proceed with transferring the amount from your banking portal to finish the Guest Pay process. After submitting your Payment Request, you will have the option to Sign up for a Veem account to save time and money for your next payments.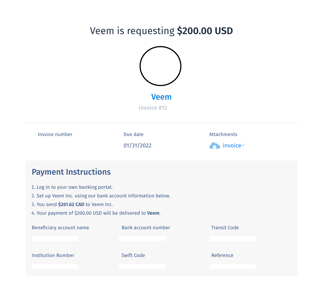 Option 02: For Returning Veem clients (with their Veem account all set up)
Step 1: Click the "View Invoice Details" button in the email. This will navigate you to the Log in Page. Please Log in to your Veem account.
Step 2: Next, on the invoice details page, please click "Next".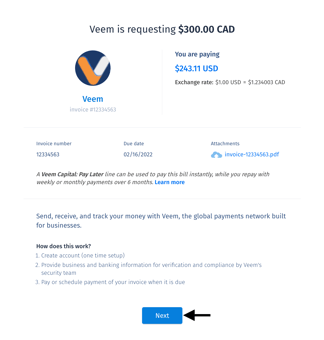 Step 3: Scroll down on the "Review and Send" page to select your preferred funding method.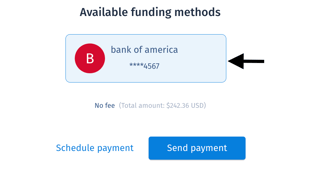 Step 8: Click "Send Payment"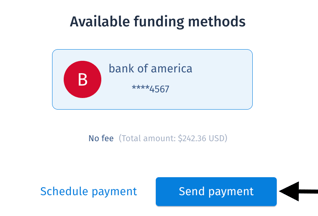 You have now successfully paid your Veem invoice! To view the new payment linked to the invoice, please click on Transactions then navigate to the Payments tab.
Once payment has been submitted and processed, the payment will be applied to the invoice and marked as paid in your Xero and Veem dashboards. You can track the status of your payment on your Veem dashboard.
Still need help? You can chat or call our Customer Success team here.