What information is required for Pay Direct (formerly Claimless) Payments?
Learn about the information required for Veem Pay Direct, previously known as Claimless Payments. Understand the upfront verification process and the details needed to securely deposit funds into a first-time payee's bank account.
Since Payees (recipient, vendor, supplier, receiver, etc.) don't need an account, Veem requires more information upfront in order to verify the recipient and deposit the funds to their bank account.

When sending a payment to a payee for the first time, you'll select "Enter Recipient's Banking Details" as the preferred delivery method.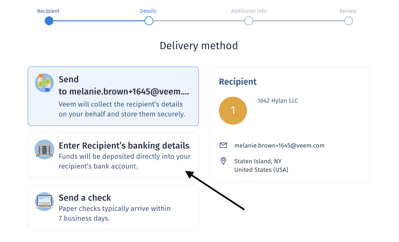 Next, select if the recipient is a business or an individual then, enter all details to "Send a bank transfer".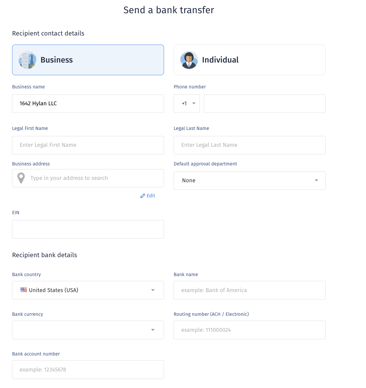 All information in this section, whether sent to a Business or an Individual, is required for the payment to deposit with Pay Direct.
Finally, review and send your payment.
Disclaimer: Pay Direct are not a guarantee if a recipient is on any sanctions match list.
Still, need help? You can chat or call our Customer Success team here.