Veem allows you to create contacts (customers, vendors) on your account for easy access. This helps save you time and effort when sending or requesting payments in the future.
If you have more than one contact, you can use the Mass contact upload feature.
To add a contact to your Veem account, watch the video or follow the steps below :
There are two ways to add a new contact to your Veem account:
Adding the contact from the My Contacts section of the dashboard.
Adding the contact during the send payment flow, see the How to send a payment with Veem help article.
Step 1: To the left-hand side of your dashboard, go to the My Contacts tab.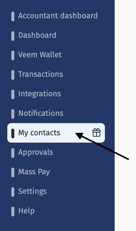 Step 2: Under My Contacts, click on the "Contacts" tab. Click the "+" button on the right-hand side of the page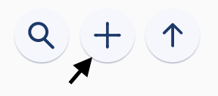 Step 3: Click "Add new contact".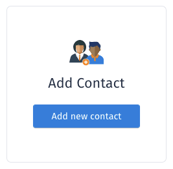 Step 4: Add the contact's email and country (required), you can choose to invite them to join Veem or not, and add a custom message if you would like.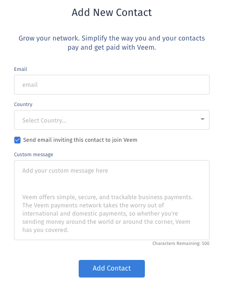 You can then opt to add the contact, business, and banking details - however, this is completely optional. The recipient can add their information when they receive a payment or invoice, accept the invite, or when they create their Veem account.
Note: For Claimless Payment contacts, all required information should be entered (Bank Information, Business and/or Individual Information). Click here to learn how to send a claimless payment.

Step 5: Click "Submit".


This contact is now added to your Veem network. You can view their contact in the "My Contacts" tab for future payments or adjustments to your newly created contact.