Veem customers can send their invoices directly from their Xero accounting software. This allows you to get paid even faster with even less effort, for both domestic and global payments.
In order to enable Pay with Veem (Bank Transfer) on your Xero invoice, please follow the following steps:
Step 1:Log in to your Veem account.
Step 2: Connect Xero to Veem.
Step 3: Send the invoice from Xero to the customer.
Once this is done, Veem will be listed as an option to receive payments automatically. If you would like to customize the button, follow the steps below:
Step 1: Log in to your Xero account.
Step 2: On your Xero Dashboard, open the General Settings for your account.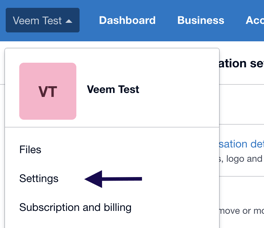 Step 3: Under Features, select "Payment Services".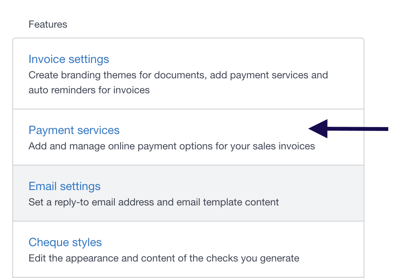 Step 4: Under Connected Payment Services, click "Manage Themes".

Step 5: Under the Credit card column, click the drop-down menu beside the "Standard" row and choose "Veem Global Payments". And thereafter, click Save.

Step 6 (Optional): You can opt to customize the name of the payment button on the invoices by clicking the edit button and selecting Service Details after you've saved your theme.

We recommend that you input - Pay with Veem (Bank Transfer). Thereafter, click Save.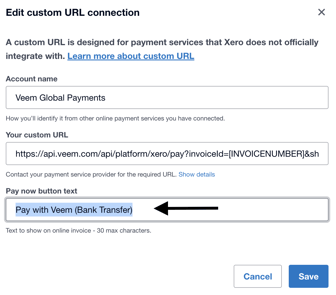 That's it! Now, every invoice sent from your Xero account will give your clients the option to pay with Veem.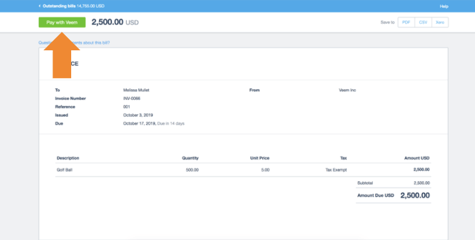 Note: In order to send an invoice with the Veem Payment option, you must be a Veem Verified user with the Xero integration enabled. To get started, sign up for Veem then connect your Veem account to Xero.
Need more help? You can chat or call our Customer Success team here.