Only transactions in the "Submitted" status can be canceled on the payer's end, but that is dependent on the amount of processing that Veem has completed. If it's a large amount, Veem may have already started processing some of the payments. To cancel a payment, please follow the steps below:
To check the status of your payment, see the help article on how to check the status of my payments/invoices.
Step 1: Log in to your Veem account
Step 2: On the left side of the screen, please click on Transactions

Step 3: On the transactions page, click on the Payments tab.

Step 4: Locate the transaction you want to cancel. Hover over the transaction to reveal the blue arrow to the right.

Step 5: Hover over the blue arrow click the 3 dots and click "Cancel Transaction".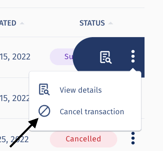 Note: If you are able to cancel the payment, you will see the "Cancel Transaction" option. If you do not see that, then you will not be able to cancel the payment online. You will have to contact our Customer Success team to assist in canceling the payment. Note that it may be too late to stop the processing.
Step 6: Click "Cancel Payment"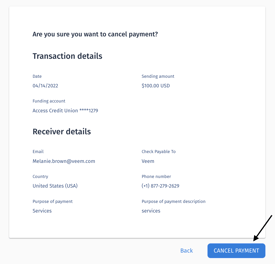 Step 7: On the next page, select the reason for cancellation and click "Confirm".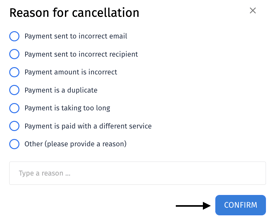 Step 8: You will be returned to your dashboard and will receive a popup notification advising that the payment was canceled. You will also see the payment status change to "Cancelled" in your Transactions view.





That's it! Still, need help? You can chat or call our Customer Success team here.