Sending payments with Veem is one of our core products. This article will walk you through exactly how to send payments from the Veem dashboard, this will include international and ACH payments.
Step 1: Please Log in to your Veem account.
Step 2: From your dashboard, click on the "Send Payment" button located on the left side of your Dashboard.





Step 3: Then, start by entering the recipient's email address. If they already have a Veem account, their contact information will populate automatically.
If the recipient does not have a Veem account, start by adding their primary email and country.
Additionally, you can opt to create a contact (add a new contact) if you have your customer's business, contact, and banking information. This can help streamline your payments and make processing faster for both sides.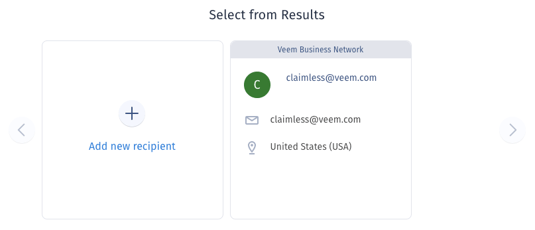 Note: If the receiver is not on Veem, you'll need to add them as a new contact.
Step 4: On the next page, please fill in the payment details:
The amount you're sending
The receiving currency

The available options for the receiving currency are dependent on the receiver's location

Date of the payment
Purpose of payment
Purpose of payment description

A detailed description of the purpose of payment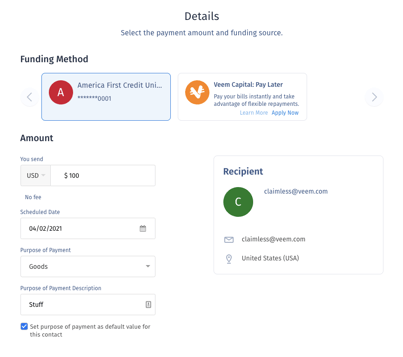 Step 5: If the recipient doesn't have a Veem account, Veem will provide the client option to either:
Send to users' email. The recipient will need to complete the setup process of their account and include their banking details on their end to receive their funds.
Enter the recipient's banking details. The sender can add their recipient's details for them and they can receive their funds straight to their bank account; claimlessly/Pay Direct.
Send a check. You can make this contact a check contact and send their money via check.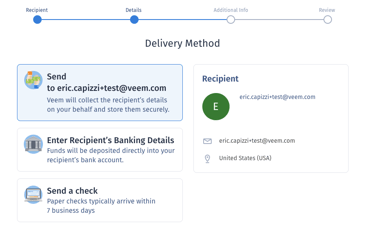 Step 5: You can opt to include any additional information for the payment i.e. the Invoice number if you need to CC anyone or add any notes you'd like to add for the receiver by clicking "Additional Information".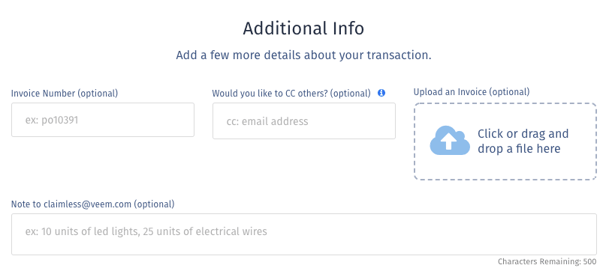 Step 6: Once all the details are included, please click on the "Review" button to do a final review of the payment and finally click "Submit Payment".
That's it! The payment has been initiated! Your receiver will be notified to accept the payment and receive the funds.