Veem makes it easy to create and send customized invoices. To create and send an invoice with Veem; please see the video or follow the steps below:
Step 1:Log in to your Veem account.
Step 2: Select the "Get Paid" button from the lefthand of the Dashboard. Then, select the second tab "Create Invoice".
Step 3: Start by entering the recipient's email address. If they already have a Veem account, their contact information will populate automatically.
If the recipient does not have a Veem account, start by adding their primary email and country.
Additionally, you can opt to create a contact (add a new contact) if you have your customer's business, contact, and banking information. This can help streamline your payments and make processing faster for both sides.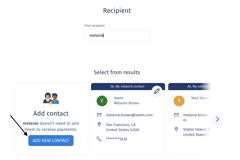 Step 4: After entering the recipient's email address (and details), on the next page, please add the basic invoice information, such as:
The date that will appear on the invoice
Payment terms for the invoice (e.g. due upon receipt, due within 30 days, etc.)
The customer Invoice number (optional)
A future date if you wish to schedule for a later time
The Purpose of Payment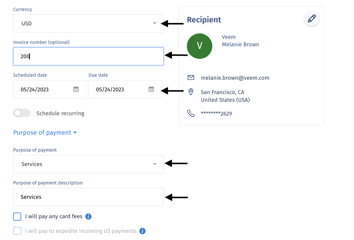 Step 5: Now it's time to add the items. Enter a description of the item, the quantity of the items being purchased, and the price of a single item.
Add additional items by clicking the "Add Line Item" ("+" icon) button.
Once all of your items have been added, you can add discounts, tax, and shipping. You can also upload your custom business logo to personalize your invoice.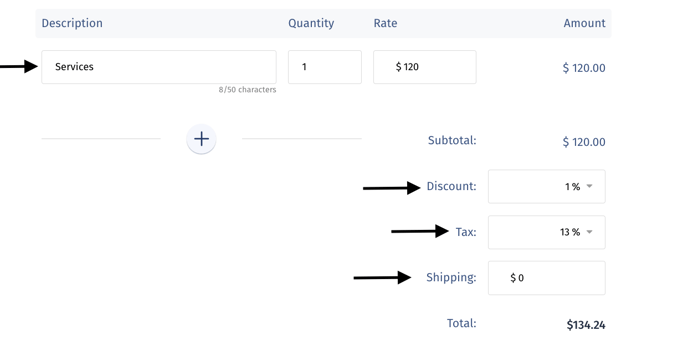 Step 6: Click "Additional Information" to add details for your terms, add any additional notes, and copy any other people you wish to receive the email.
Step 7: Once that's complete, select the "Review" button.
Step 8:Review the details on the next page, and feel free to make any changes that are necessary. Once the review is complete, please click "Send Invoice" button.
Note: Using the invoice builder option will create an invoice document and attach it to the request.
Note: For new users, an email and country will be required for the sender to create a payment request and/or invoice.
If you are still unable to create or send invoices with Veem, our Customer Success team is happy to assist.