Completing the Veem account signup takes only a few minutes. Please see this video or follow the steps below to learn more about the required information.
Step 1: Click "Sign Up" on veem.com, or click here.
You can create your Veem account by signing in with either Intuit or Google, OR you can sign up with your email.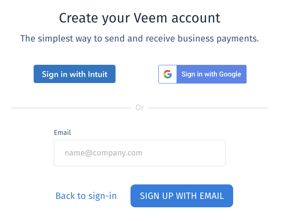 Note: If you don't use Intuit or Google to create your account, you'll be prompted to create and confirm a password for your Veem account.
Step 2: Next, tell us how you intend to use Veem. This will help up tailor your onboarding experience better. You'll then be able to sign up as a business, individual, or personal. Click "Business" to continue.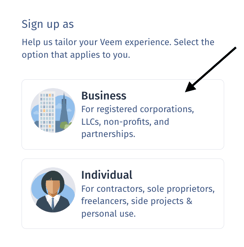 Step 3: You'll then be required to provide a few details about your business. This information required by Veem is:
Country of Business
Business Address
Business Name
Type of Business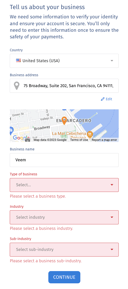 Before proceeding from this section, there is an option for you to "List my business". This would list your business on the Veem network, so your clients and/or vendors can find you more easily. Your business name and logo will be shown.
Step 4: Next, please enter your personal information into the required fields.
Legal First Name
Legal Last Name
Phone Number
Select your intended use for Veem.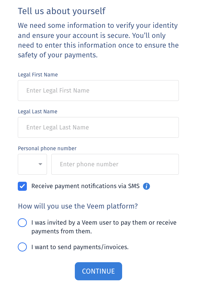 Clients can opt to receive their payment status updates by checking the box to receive payment notifications via SMS.

Step 5: Continue by entering your banking information. You can do this by entering your information manually or by signing in to your banking portal using Plaid (Only available for USA and Canada clients)

Using Plaid:
Search your bank
Sign in using your banking portal login
Your bank account will be auto-verified and you'll be connected
Manual entry:
Note: Each country is different, you may see options to add Swift code, Sort code, bank code, branch code, transit code, IBAN, etc.
Bank Country
Bank Name
Bank Currency
Bank Routing Number
Bank Account Number
Step 6: Once you've completed these steps, your account is created. You'll receive an email asking you to verify your email. Please accept this email to finish activating your account.