Veem's Mass Pay feature is a versatile feature that allows clients to send payments to multiple vendors, contractors, etc., at the same time and on the same day.
It allows clients to upload multiple recipient payments at once, and Veems' payment team will process them.
Note: Mass Pay is only available in the USA and Canada at this time. Please see the attachments at the bottom of this article for the Mass Pay User Guide and Mass Pay Template download links.
To access and use Mass Pay:
Step 1: Please Log in to your Veem account.
Step 2: Please go to the Mass Pay tab on the left-hand side of the dashboard. Then, you'll see this page:

Step 3: Please click on "Download Template File". A CSV file will be downloaded. Please open and fill out all the required fields.
For clients still using the older file template, please download and use the new mass pay file.
Please be sure to review the key information on the Mass Pay files and confirm that all required information is included in all Mass Pay files before submitting, to avoid the possibility of the file not being processed; causing a delay in the payments. The required fields for Mass Pay are:
Email
Amount
Currency
Business/Contractor Name
Country
Purpose of Payment
Purpose of Payment Description
Please use the sample image below for reference:

Step 4: Once you have completed filling out all information, save the file as a CSV,
Step 5: Return to the Mass Pay tab in your Veem account, and select the processing date on which you want the payments to be processed. Please note that your payments will be processed on the date you selected. This is the day the payments will be pulled from your account and not the day the payments will land.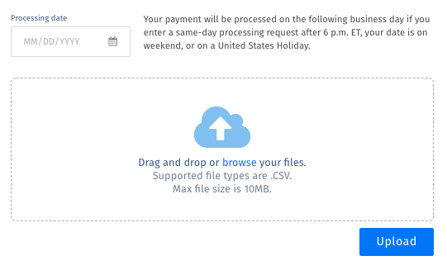 Step 6: Upload the file and click "Upload".
Still, need help? You can chat or call our Customer Success team here.