Veem understands that every business has unique needs, which is why we have developed Pay Link. Pay Link is a personalized URL that is tailored to your specific business.
With Pay Link, you have the flexibility to easily share it and receive payments in the manner that best works for you.
The pay link can be accessed in 2 ways:
It can be found on the dashboard:

Alternatively, it is also possible to locate the pay link under the settings section. To do so, please watch the video or follow the steps outlined below:

Step 1: On the left side of the dashboard, please click on "Settings".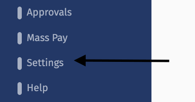 Step 2: Under settings, please navigate to the Preferences section. Then please go to Pay Link Preferences.

Step 3: Here, you'll be able to access the URL, customize the background color, and add a short description of your business. See the image below:



Step 4: Once all the information is included, please click "Save".

Step 5: You can then preview your Pay Link by clicking the "Preview" button to ensure it's exactly how you want. See the preview image below: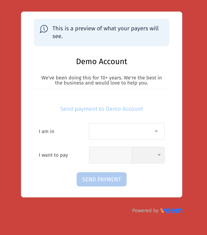 Your personal Pay Link is now complete! You can now start sharing this link by going to the Preference settings page and clicking the blue copy button next to your custom Pay Link URL.





You can share it via text or email and start sharing this link to get paid directly into your bank account.

Still need help? You can chat or call our Customer Success team here.