Veem makes it simple to download reports on all payments you've made using the platform. Follow these steps to download reports for both payments and invoices.
Note: Veem does not offer a way to export reports by specific payers/payees. However, once you've downloaded the completed report, you'll be able to filter by payers/payees in the CSV file.
Go to the Transactions section of your account.

To the right-hand side of the screen, click the Export Transactions icon.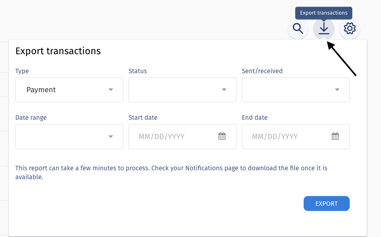 An Export Transactions pop-up window will appear. Begin filling out the information you'd like to see in your report. The information you can pick from includes:


Type
Status
Sent/Received
Date Range

Drafted
Scheduled
Pending Approval
Submitted
In Progress
Deposited
Closed

Current Month
Past 3 Months
Past 6 Months
Past Year
All Time

OR

You can choose a custom date range by adding the Start Date and End Date

Once you've outlined the report you'd like to export, click the blue Export button.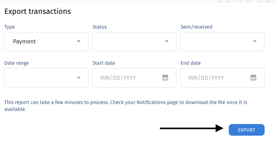 A green banner will appear at the top of your screen letting you know we are working on the export you've requested.
Note: Depending on the size and date range of your report, this may take a few minutes to complete.
When your report is ready, you will see a message that your report is ready and that you're able to download the report in the Messages section of your account.





Locate the report you exported. Hover over the blue arrow to the right and click the download button.





The report will then export as a CSV and you'll be able to open and view the report.

Still need help? You can chat or call our Customer Experience team here.