How to Disable the Veem Wallet
This article will guide you through the steps on how to stop receiving funds in your Veem Wallet.

Step 1: Log into your Veem account.

Step 2: Begin by navigating to your Settings tab in the lefthand sidebar



Step 3: In Settings, please click on the Get Paid tab.

Step 4: Under the section Defaults, you can change your default receiving account. Click the dropdown menu under Default receiving account to update from the Veem Wallet to your bank account (or Instant Deposit debit card, if applicable).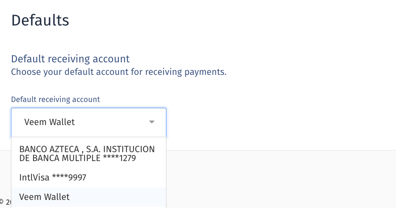 That's it! New payments will now deposit directly to the bank account on file (or Instant Deposit debit card, if applicable). You can continue to make payments and withdrawals with your remaining wallet balance.
If you wish to turn your wallet back on, simply select it as the default receiving method again.
To learn how to withdraw funds from your wallet to your bank account, see this article.