How to Approve a Payment
When a transaction has been submitted and requires approval, go to the Approvals tab on your dashboard to approve.
Navigate to the Approvals Tab.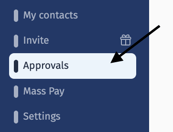 Locate the transaction you want to approve, hover over the transaction, and click the "Approve" button that appears to the right.


You can also open the transaction by clicking on it, reviewing it, and clicking the "Approve" button at the top.

Once approved, the transaction will begin processing.
Still, need help? You can chat or call our Customer Success team here.