Veem now offers the flexibility to send check payments. Checks are only available to new contacts on Veem located in the United States.
To start sending checks to vendors, clients must first start by adding them as a new contact. Once the contact has successfully been added to the Veem account, check payments can now be sent to them. To learn how to do this, please click here.
After adding the new contact:
Step 1: From the dashboard, please click on the "Send Payment" button located on the left side of your Dashboard.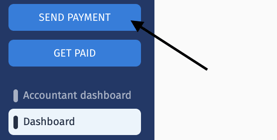 Step 2: Then, start by entering the contact's email address. Since the contact is already set up, their contact information will populate automatically; then click on the contact.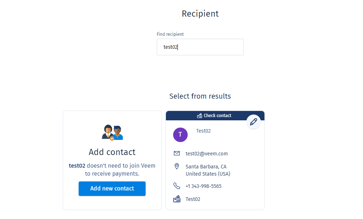 Step 3: On the next page, please fill in the payment details:
The amount you're sending
The receiving currency

Note: For check payments, the receiving currency is automatically set as USD.

Date of the payment
Purpose of payment
Purpose of payment description (A detailed description of the purpose of payment)


This field is important as this information will be displayed on the check. The invoice number can be included here as well if required.
Please note that no more than 50 characters can be entered in this field.
Step 4: Additional information for the payment i.e. the Invoice number, if additional clients need to be CC'd or add any notes that may need to be included for the receiver can be added by clicking "Additional Information".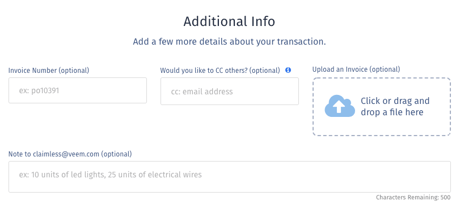 Step 5: Once all the details are included, please click on the "Review" button to do a final review of the payment and finally click "Submit Payment".
That's it! The receiver will be notified via email once the payment has been sent and they'll receive a check in approximately 5-10 days business days, from the date the payment was initiated in the mail, instead of the standard Veem ACH payment.
The recipient can change this at any time by entering their bank information when they create a Veem account.
Still, need help? You can chat or call our Customer Success team here.