Getting signed up for an account with Veem takes minutes. All you need is a valid email, we'll collect basic information about your business and you're done.
Watch the video or follow the steps below to create an individual account.
Step 1: To get started, click "Sign Up" on the home page veem.com, or click here.
You can create your Veem account by signing in with either Intuit or Google, OR you can sign up with your email.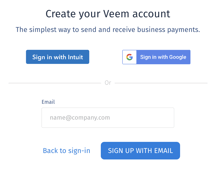 Note: If you don't use Intuit or Google to create your account, you'll be prompted to create and confirm a password for your Veem account.

Step 2: Next, tell us how you intend to use Veem. This will help up tailor your onboarding experience better. You'll then be able to sign up as a business, individual, or personal. Click "Individual" to continue.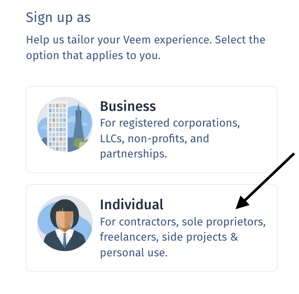 Step 3: You'll then be required to provide a few details about your business. This information required by Veem is:
Country of residence
Address
Type of business (Contractor/Sole Proprietor)
Industry and sub-industry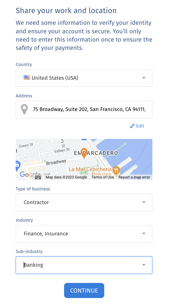 Before proceeding from this section, there is an option for you to "List my business". This would list your business on the Veem network, so your clients and/or vendors can find you more easily. Your business name and logo will be shown.
Step 4: The next step is to enter your personal information.
Legal First Name
Legal Last Name
Date of Birth
Last 4 digits of your SSN

Note: This information may differ based on the country you're in.

Phone Number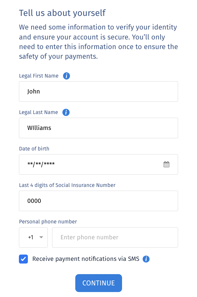 Step 5: Continue by selecting your funding method.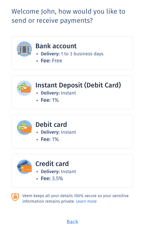 If you'll be entering your banking information; you can do this by signing in to your banking portal using Plaid (if you are in the USA or Canada), or entering your information manually.

Manual entry:
Bank Country
Bank Name
Bank Currency
Bank Routing Number
Bank Account Number

Note: Based on your country, you may see options to add Swift code, Sort code, bank code, branch code, transit code, IBAN, etc.
Using Plaid:
Search your bank
Sign in using your banking portal login
Your bank account will be auto-verified and you'll be connected
Step 6: Once you've completed these steps, your account is created. You'll receive an email asking you to verify your email. Click on Verify!


Your Veem account is now ready, and you can send and receive payments. You can share your email address used to create the account with the payer or send an invoice.