Sending an invoice on Veem has never been easier. For repeated and subscription-type transactions that occur regularly, clients can now opt to create recurring invoices so as to save time and minimize repetition.
To set up recurring invoices, please follow the steps below:
Step 1: Log in to your Veem account.
Step 2: Select the "Get Paid" button from the lefthand of the Dashboard.
Step 3: Enter the recipient's email address. If they already have a Veem account, their contact information will populate automatically.
If the recipient does not have a Veem account, start by adding their primary email and country.
Step 3: On the next page, please turn on the option to Schedule Recurring.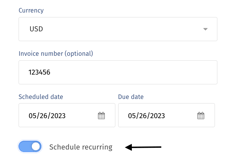 Step 4: Then, enter preferred options for recurrence. Clients have the option to choose between weekly or monthly recurrence:
For weekly recurrence

Select an option between 1-5 weeks
Select which day of the week the invoice should recur on

For monthly recurrence

Select an option between 1-12 months
Select between the 1st and last days of the month the invoice should recur on
Step 5: End recurrence:
Select a calendar date that the recurring invoices should end on
Ending after a specific number of recurrences
Step 6: Click the Schedule button
Step 7: (optional): Click Edit Schedule to revise any of the above options
Step 8: Complete entering the invoice details, and click Continue to review and submit the invoice. Review the details, and feel free to make any changes that are necessary. Once the review is complete, please click "Send Invoice" button.
Still need help? You can chat or call our Customer Support team here.