How to pay an invoice as a Guest - "Guest Pay"
When clients opt to pay invoices with Veem, they have the option to pay for invoice(s) by creating a Veem account (if they don't already have one) or as a guest (without creating an account), also known as "Guest Pay".
To pay for an invoice/payment request through our Veem Guest Pay feature, please see this video or follow the steps below:
Step 1: An email that resembles the screenshot below will be delivered to your inbox with the invoice attached. This email will display the amount, company name, due date, and a handful of other useful invoice details.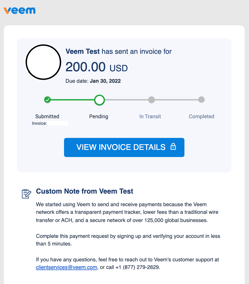 Step 2: Click "View Invoice Details"

Step 3: You will now see additional details regarding the invoice. To continue the Guest Pay process, please click the button labeled "pay with bank transfer".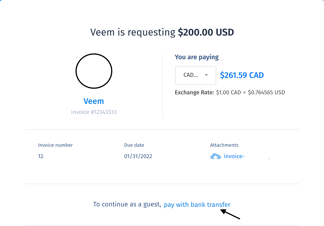 Step 4: Using the banking details shown on the screen, please proceed with transferring the amount from your banking portal to finish the Guest Pay process.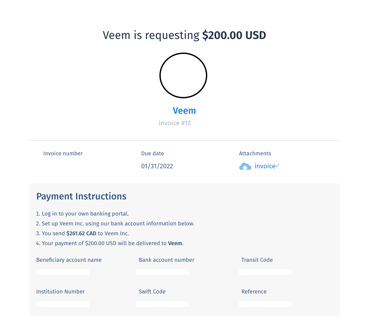 Still, need help? You can chat or call our Customer Success team here.