Clients can create and send invoices with Veem, and their payers will have the option to pay as a guest (without creating an account). This feature is also known as "Guest Pay".
Please see our article on how to send an invoice here, or follow the steps below to send a Guest Pay request.

Step 1: Log in to your Veem account.
Step 2: Select the "Get Paid" button from the lefthand of the Dashboard. Then, select the first tab "Request Payment".
If you will be sending an invoice, please select the second tab "Create Invoice".
Step 3: Enter the email that you will be sending the invoice/payment request to.

*If it is your first time sending a payment request to this payer, please select their country from the dropdown menu.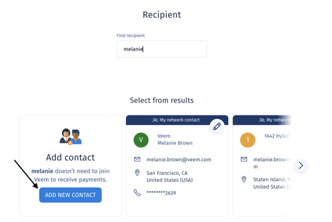 Step 4: Enter the details of your payment request into the "Get Paid" section.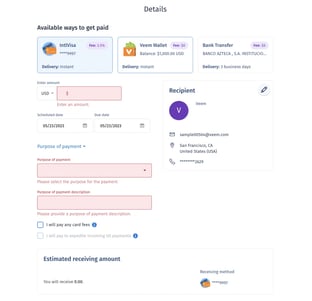 Step 5: Once the invoice has been submitted, your payer will be sent an email that will display the amount, company name, due date, and a handful of other useful invoice details.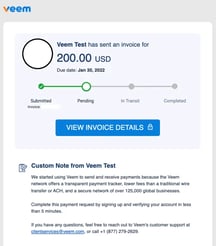 To view the process of paying an invoice through Veem Guest Pay, please click here.
NOTE: Clients are not required to sign up for this feature. Currently, the Guest Pay feature is not available for payers located in Canada.

To learn how to create and send an Invoice on Veem, please see this article.
Still need help? You can chat or call our Customer Success team here.