How to update the beneficiary name on a business account
The business account type offered on Veem is catered to businesses and sole proprietors. To ensure no delays occur with your Veem payments, please confirm that your beneficiary name is entered exactly as it is listed on your bank statement.
To update the beneficiary name on your business account, please follow the steps below.


Step 1: Log into Veem.com
Step 2: Click on your "Settings" tab in the lefthand sidebar.

Step 3: On the Settings page, please go to your Account tab.

Step 4: On the "Business Information" section, click "Edit"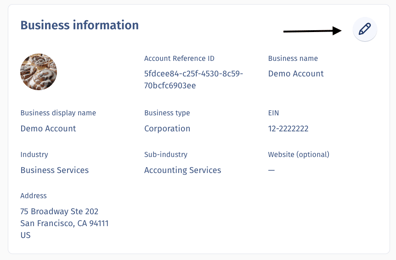 Step 5: Update the Business name field to your correct business name
Step 6: Click "Save" to successfully update your business beneficiary name.

After following these steps, you will have fully updated the beneficiary name linked to your Veem account. Please note that updating your beneficiary name will submit your account for re-verification.
Still need help? You can chat or call our Customer Success team here.