Veem allows payments to be sent from business-type debit and credit cards and received from both personal and business-type debit cards.
To update your current debit and/or credit card on file, please follow the steps below.
Note: This article is to help edit an existing debit/credit card on Veem.
You also have the option to remove the current debit/credit card or add a new card.

Step 1: Log in to Veem

Step 2: Click on the "Settings" tab


Step 3: Click on the "Send Payment" tab

Step 4: On the "Send Payment" tab, you will be able to see your current funding methods under the "Ways to Pay section" section

.

Step 5: On your credit/debit card in the "Ways to Pay section" list, please click "Edit"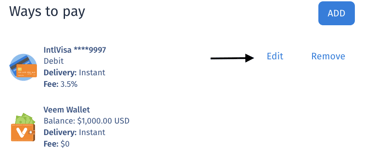 Step 6: Adjust the debit/credit card details as desired, and then click "Save"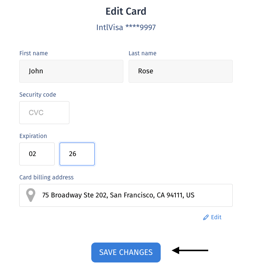 You have now successfully updated your debit/credit card information on Veem.
Note: Updating your debit/credit card on file will un-verify your account. Before any pending payments are completed to the new card details, a re-verification is required.


If you were looking to update your current Default Sending/Receiving method on Veem to your new card, please click here.


Still need help? You can chat or call our Customer Success team here.