Once a payment is submitted to a first-time recipient under the option "Send to users email" (without including their details), the first step required in order to initiate the process is for the receiver to accept the payment on their end and complete setting up their account. An email will be sent from Veem to the receiver with the payment details and at the bottom of the email details; there'll be an option asking them to "Accept Payment".
In some cases, clients are not aware of these emails or they may be redirected to the spam folder. Thus the payment remains in the submitted status or pending (as seen on the payment tracker). Henceforth, it is vital for the recipient to accept the payment. Senders can send their recipients a reminder for them to claim payment if the payment is still in the same status after a few days, in order to avoid further delays. To send a claim reminder, please follow the simple steps outlined below.
Step 1: Please Log in to your Veem account.
Step 2: From your dashboard, click on the "Transactions" option located on the left side of the Dashboard.
Step 3: Under transactions, please select the payment to view the details.
Step 4: Thereafter, on the payment details page, please click on the bell icon to send a reminder.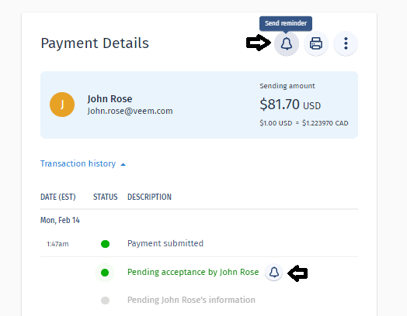 That's it! Once the payment has been accepted and their account is fully set up the process will be initiated. To learn how to accept a payment, please see this article.
Still, need help? You can chat or call our Customer Success team here.