How to Pay an Invoice
Veem allows users to easily send, pay, and edit invoices directly from their accounts.
To pay an invoice that was sent to you, please follow the steps below.

Step 1: Log in to Veem.

Step 2: Once logged in, click "Transactions" in the lefthand sidebar.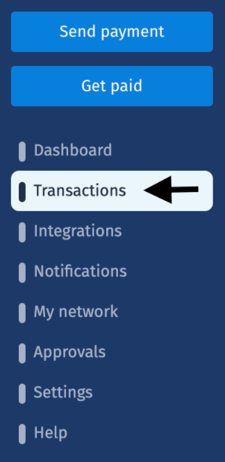 Step 3: In the "Transactions" tab, please click "Invoices"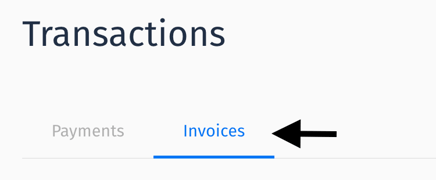 Step 4: You will now see a list of the invoices pending on your account. On the invoice you wish to pay, please hover over the 3 dots on the right-hand side of the invoice.



Step 5: Please click "Accept" to accept the invoice.


Step 6: On the invoice details page, please click "Next".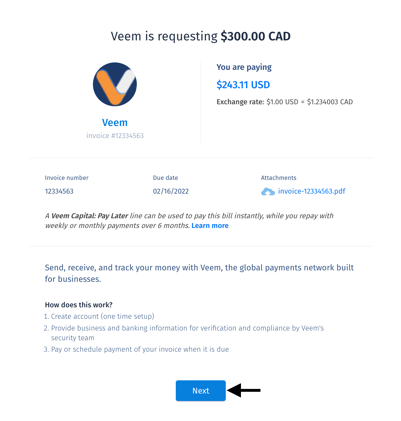 Step 7: Scroll down on the "Review and Send" page to select your preferred funding method.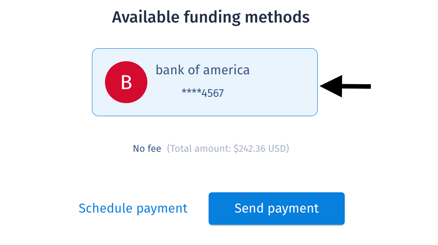 Step 8: Click "Send Payment"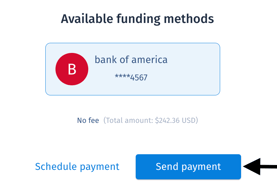 You have now successfully paid your Veem invoice! The newly created payment will now be visible in your Transactions > Payments tab.


If you would like to pay an invoice from an email notification, please click here.
Still, need help? You can chat or call our Customer Success team here.