In order to better service our clients and provide their businesses with full access to our services, we are required by law to gather certain information from the account owners and key persons.
Mandatory information required includes information on the Control Person (which is explained further below) of the business, whether the business has an individual owner or not that meets the required threshold for providing ownership information. Please review our FAQ for more information.
To provide the beneficial ownership information, see the video or follow the steps outlined below:
Step 1: Log in to your Veem account and go to settings.
Step 2: Under settings, navigate to the Account tab.
Step 3: Under the Account tab, locate the "Information required: Ownership & Key Persons" card.
Step 4: Click on "Provide information". Read the details and then click on "Add Owner or key person".

Step 5: Select the owner type (Business or Individual) and then click "Continue".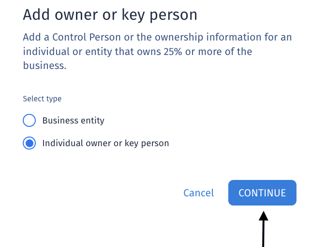 Add individuals:
Use this option to add individual owners who can act as control persons. Please note that one control person is required to complete the process.
Individual Owner: Individuals that own 25% (10% for Canada) and more of the business. To add an individual owner that is not a control person, click continue in the screenshot.
Control Person: This is the top executive or manager of the business. Common titles are Chief Executive Officer and President. Check the box in the screenshot below and click continue.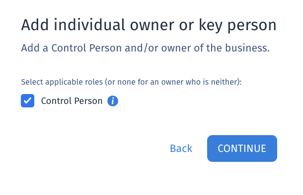 The information required for individuals may include:
Country of residence
Name
Business Title
Percentage of ownership
Phone number and type
Home address
Date of birth
Social Security Number or Tax ID number
Country of citizenship
Then click "Save"!
Add business entities (if applicable): Add all businesses that own 25% (10% for Canada) and more of the business using the Veem account. Here is the information that will be required:

Country where the owning business entity is located
Business name
Tax identification number (TIN/EIN)
Percentage of ownership
Business legal address
Then click "Save"
Repeat steps 4 and 5 to add multiple businesses and/or owners if needed until all required ownership information has been provided. Information can be edited by clicking "Manage" next to a given person or entity.
Step 6: To confirm that all the required information has been entered (submitted) please navigate to the beneficial ownership section which can be found by going to settings then the account tab; then click on update on any entry that has the warning sign (as seen below).

Step 7: To finish the beneficial ownership information process, any user that can access the settings page needs to certify that the ownership information provided is complete and correct to complete the process.
Note:
For more information on how to edit, complete, and/or remove the ownership information, click here.
Only one Control Person can be added. Email address is not a requirement for a Control Person.
One user with access to settings is needed to certify the information provided.
If your business has no individual owner that meets the required threshold for providing ownership information, we will still require information on a Control Person.
Still need help? You can chat or call our Customer Success team here.