How to Cancel an Invoice
Apart from creating and sending an invoice while having the option to customize it with Veem; clients also have the choice to cancel invoices as well. To cancel the invoice, please follow the steps below:
Step 1: Please Log in to your Veem account.
Step 2: Please click on Transactions on the left-hand side of the dashboard.
Step 3: Under transactions, please click on the "Invoices" tab

Step 4: Then, in the invoice tab, on the invoice you'd like to cancel, right beside it please click on the 3 dots to view the options

Step 5: Please click on the third option to "cancel request"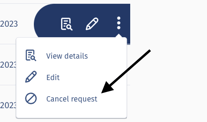 Step 6: On the next page, please click on the button to "Cancel Invoice"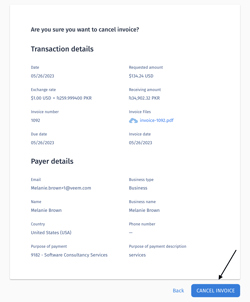 NOTE: - The option to cancel the invoice will only be visible to the recipient sending the invoice.
- Only unclaimed invoices can be canceled.
That's it! You'll be redirected to the dashboard and will receive a popup notification advising that the invoice has been canceled. The invoice status will also change to "Cancelled" in the Transactions view.
Still need help? You can chat or call our Customer Success team here.