How to Disable the Fast Transfer Feature
Veem allows senders located within the US to have the option to expedite their payments, using the Fast Transfer option for all applicable payments.
To disable this option/feature on your account, please follow the steps below.
Step 1:Log in to your Veem account.
Step 2:Click on Settings
Step 3: Under settings, click on the "Send Payment" or "Get Paid Tab" tab.
Step 4: Locate the "Payment Preferences" section.
Step 5: Uncheck the box next to " I want to expedite all qualifying US domestic payments" or "I will pay the fee to expedite incoming US domestic payments"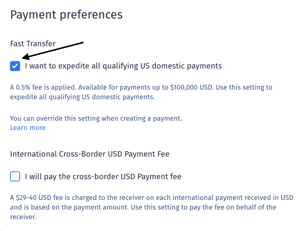 That's it! You have now disabled the Fast Transfer option, and the payments will be processed in the standard timelines. To learn more about Fast Transfer and its limitation, click here.
Still, need help? You can chat or call our Customer Success team here.