Accountant and Bookkeepers
Set up accountant/Bookkeeper Dashboard
The first step that the accountant/bookkeeper needs to take is setting up the Accountant Dashboard. To learn how to do this, please follow the steps below:
Step 1: Sign up from the accountant page here: https://www.veem.com/accountants/


Step 2: Add the required information as shown in the screenshot below or use Google/intuit to sign up: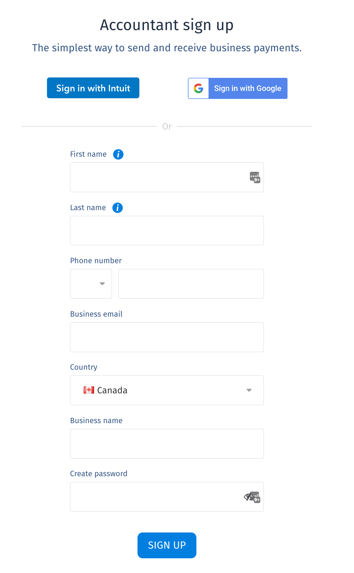 Step 3: You will receive an email notification requesting to verify the email address. Click on "Confirm Email".
Step 4: You will be directed to the accountant dashboard. From here you will have the option to add clients to process payments. You can also opt to log out and come back later to complete this process if needed.

That's it! This Dashboard can be used to add clients to one dashboard for easy access.
Clients can also invite their Accountants/Bookkeepers on Veem, and add them to their accounts as users for ease of access in managing their accounts and/or transactions.
Next: Invite your Client(s)