How to Connect your Netsuite Bank Account to Veem
Once the Veem Bundle is installed on Netsuite, the bank account that will be used to make payments must be updated to become Veem aware.
To make a bank account on Netsuite Veem aware, follow the steps below:

Step 1: In Netsuite, click "Setup" in the top menu bar.



Step 2: Choose the "Accounting" section


Step 3: Click "Chart of Accounts"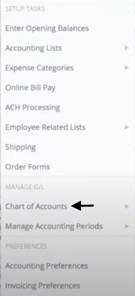 Step 4: Under the "Chart of Accounts" section, there will be a list of different accounts currently linked to Netsuite. Find the bank account that you wish to use for Veem payments in this list.


Step 5: Click "Edit"


Step 6: Click "Save". No changes have to be made to the bank account on the "Edit" screen.



Step 7: Click "Ok".



The bank account selected on Netsuite is now Veem aware and can be used to send payments on Veem. To complete the Veem/Netsuite integration setup, learn how to set up a payment profile here.


Still need help? You can chat or call our Customer Success team here.