Fast Transfer is an option for expediting the payment delivery time from three (3) business days to one (1). This option is available for clients located in the US sending domestic payments within the US.
In order for Veem to continue expediting domestic US payments on the current timeline, we have updated some of the Fast Transfer options. Please check below for all changes and FAQ.
What Changed?
This feature is now a default option on qualifying accounts that can be disabled at any time. We have removed the cap of $20 on our fees for this feature.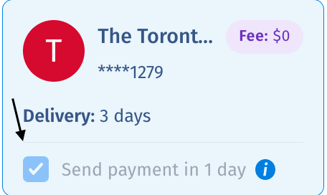 When will this feature be live?
The change is live as of Thursday, September 9th, 2022.
How much is the current fee for Fast Transfer Payments?
In order for Veem to continue processing Fast Transfer payments in a 1 business day timeline, the cost of Fast Transfer payments will be 0.5% of the total amount being transferred.
How does this feature work?
This option can be used when the funding method is your bank account, and you'll see an option for "Fast Transfer" in the funding method carousel for an additional fee. Standard ACH payments are still available at no cost (depending on the account plan).
How do I select Fast Transfer Payments?
This option has now been enabled by default for all qualifying US sending accounts. To see where the feature is located, please go to settings > Send Payment/Get Paid > Payment preferences card.
Is there a maximum on the total amount being transferred?
​​The maximum amount that can be expedited is $100,000 USD. More updates on the maximum limit will follow soon.
How can I disable this feature?
Click here to learn how you can disable the Fast Transfer option.
Need more help? You can chat or call our Customer Success team here.