How to Make a Pre-payment, Down-payment, or Partial Payment on Veem
For clients making a down payment on a purchase order, you can opt to click "Split" and you will see the 'partial payment' feature dropdown.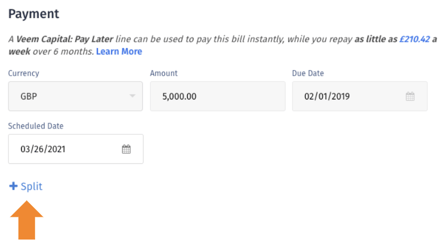 Here you can enter the total bill amount AND the down payment amount (in either % terms or by amount). You will ll also have the option to choose to split by percentage or a specific amount. Once you enter the amount, it'll tell you the remaining balance.

NOTE: Veem will create a bill in Xero for the full amount AND the partial payment amount on the bill in Xero.
Need more help? You can chat or call our Customer Success team here.