To create/apply for a Veem Virtual Card, simply follow the steps below:
Step 1: Please Log in to your Veem account.
Step 2: Once logged in, to the left-hand side of your dashboard, go to the Veem Wallet tab.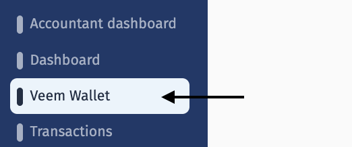 Step 3: Under the Veem Wallet tab, navigate to the Virtual Card Section.

Step 4: Click 'Add Virtual Card'

Step 5: From there, you can see the Individual and Business names that will be displayed on the card, accept the terms and conditions, and click 'Create Card'.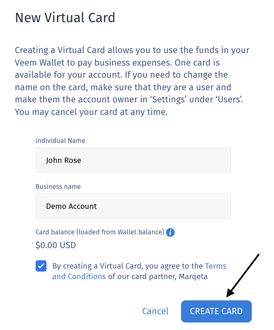 If the individual and/or business name are incorrect, please go to your Settings > Accounts section and update the incorrect information before creating your card. Once correct, you can then continue creating your Virtual Card.
Once the card is created the information on it can not be changed/updated.
Click here to learn how to update your business name.

Click here to learn how to update your first and last name (individual name).
That's it! In most cases, the approval time for the card is almost instant, but in instances where further review could be needed, it can take up to 3 business days to be completed.

Once approved the card will appear in your Virtual Card dashboard in your Veem Wallet with the status - Active. You'll will now be able to view the card details and begin using the card online to make purchases.

NOTE: Only the Account Owner and users that have 'Access to Settings' permissions will be able to create/apply for a card.
Click here to learn how you can update the user(s) permissions settings on the account.
Click here to learn how you can load funds to the virtual card.
For more information about the virtual card, please see this article here.
Need more help? You can chat or call our Customer Success team here.