How to disable the option to Cover Payer Card Fees
This option will disable the option to cover the card fees on all applicable payments.
Step 1: Log in to your Veem account.
Step 2: Click on Settings
Step 3: Click on "Get Paid Tab".
Step 4: Under Invoicing and Request preferences, uncheck the box next to "I will pay the card fee"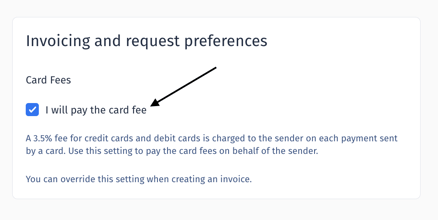 That's it! Click here to learn how you can enable this feature.
To learn more about how to create and send an invoice with Veem, please click here.
For more information on credit card payments, please click here.