To add money to your Veem Virtual Card, simply follow the steps below:
Step 1: Please Log in to your Veem account.
Step 2: Once logged in, to the left-hand side of your dashboard, go to the Veem Wallet tab.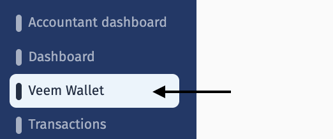 Step 3: Under the Veem Wallet tab, navigate to the Virtual Card Section.

Step 4: Enter the amount you'd like to add to your card and click 'Add Funds'

Step 5: Click 'Confirm' to affirm the transaction.

That's it! the payment is submitted and will be processed to the virtual card once verified by Veem.



NOTE:
Currently, clients can only load their cards using funds available in their Veem wallet. If the client needs additional funds added beyond their wallet balance, they can use their debit card to fund their wallet! Click here to learn more about the Veem wallet.
In order to reload the Veem Virtual Card, the user needs to be either the account owner or have access to settings and payment creator permissions. Click here to learn how you can update the user(s) permissions settings on the account.
If there is an approval requirement set up on the account, reload card payments will need to be approved.
You can learn more about the virtual card in this article here.
Need more help? You can chat or call our Customer Success team here.