Check payments are only available within the United States, new contacts can be selected to receive checks. We have made a few updates to this feature and to learn more about this, please see the details below:
What Changed?
Check payments can now be sent from and to all states in the United States, with a fee of $1.99.
How much is the current fee for these payments?
The current fee for processing check payments on Veem is now $ 1.99 per transaction, and the fee will be charged from the sending account (the payer).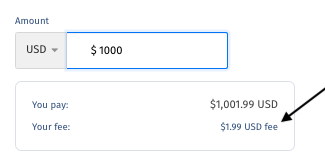 When will these features be live?
The change is live as of October 5th, 2022.
How do I send checks with Veem?
In order to pay a vendor with a Veem check, please follow the steps below:
1. Add them as a check contact
2. Send them a check payment on Veem. Click here to learn more about how you can send a check payment on Veem.
How long does it take to process Veem checks?
Veem Checks are sent via USPS and take approximately 5-10 days business days, from the date the payment was initiated, to arrive in the mail.
For clients who would like to receive their payment faster, they can opt to sign up for a Veem account and get transfers deposited directly to their bank account instead which will land in 1-2 business days.
NOTE: Currently, check payments can only be sent if the sending account is set as the bank account.
Still, need help? You can chat or call our Customer Success team here.