How to Remove a User
One of the most common features used by Veem Clients is multi-user access features which aim to grant different permissions to different users on the same account, thus supporting large multi-national companies and sole proprietors alike.
To learn how to add a user to the Veem account, please see this article.
To remove a user from your Veem account, please follow the steps below:
Step 1: Log in to Veem

Step 2: On the left-hand side of the dashboard, click on the "Settings" tab.

Step 3: Once in your settings, select the "Users" tab along the top navigation bar.

Step 4: From here, scroll and locate the user you wish you remove. To remove the user, click "Remove" to the right of their profile.

Step 5: A pop-up message will appear to confirm removing the user from the account. Click on 'OK' to complete the process.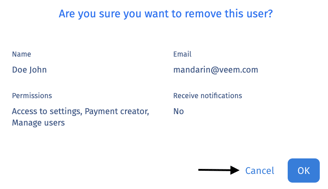 That's it! The user has now been removed and will no longer be able to access the account.
Still need help? You can chat or call our Customer Success team here.